Local 8 was proud to provide trumpeters Don Sipe and Kevin Wood, who performed taps during the annual Workers' Memorial Day ceremony at Zeidler Union Square Park in downtown Milwaukee.
The event is sponsored by the Milwaukee Area Labor Council AFL-CIO and the Wisconsin Committee on Occupational Safety and Health, for the purposes of honoring workers killed on the job and raising awareness about the importance of workplace safety and health regulations.
This year's event took place on April 28, 2013.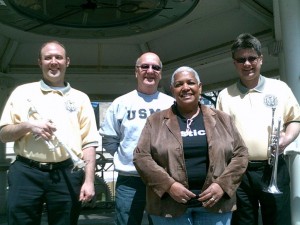 left to right: Kevin Wood (AFM 10-208),  Mike Balistriere (MALC/AFL-CIO Community Services Liaison) ), Sheila Cochran (Secretary-Treasurer and Chief Operating Officer MALC/AFL-CIO), Don Sipe (AFM 8)